Basketball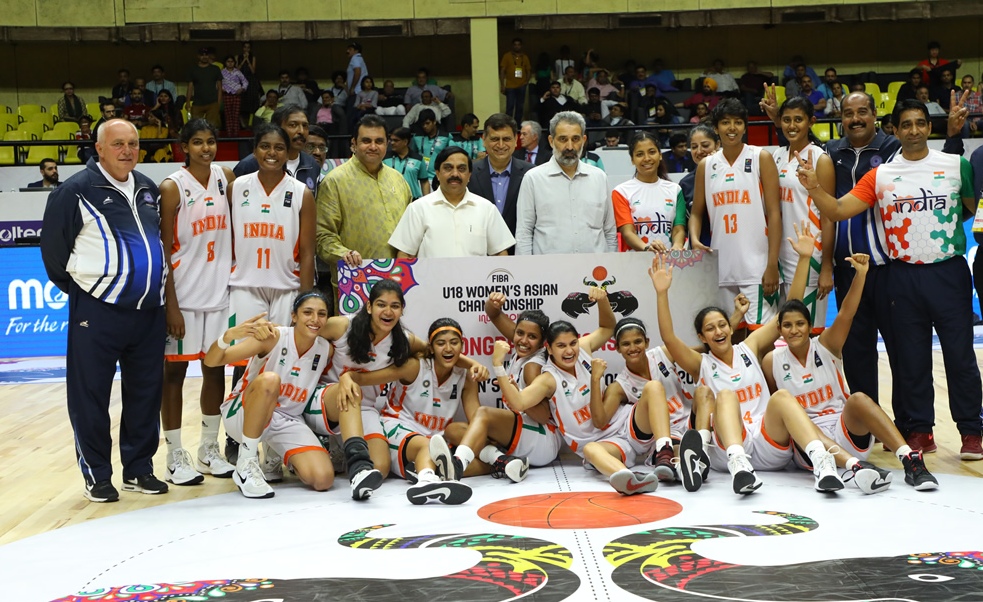 CHINA, JAPAN SET UP TITLE CLASH ONCE AGAIN
It's defending champions China vs runners-up Japan all over again in 2018. It's been a fairytale rivalry in the FIBA Asia Women's (Under-18) basketball championships with both nations contesting the last five finals in a row with China emerging on top.
Japan produced power-packed display to conquer Australia 90-77 while China comfortably overcame Korea Republic 69-51 in the two semi-finals at the Sri Kanteerava Indoor Stadium on Friday.
The 15-times champions and four times runners-up, China stormed into their 20th final while Japan made their 12thentry into the final having won it once and being runners-up on ten occasions.
The Koreans last figured in the final in 2004 having lost to China and will have to wait for two more years to alter their records. This was Australia's first campaign in the Asian zone.
JAPAN DAZZLE
Japan produced a dazzling display of super fast basketball. They were virtually like their bullet trains as Chinatsu Omeki in particular being lightning fast and also accurate in her conversions. Australia huffed and puffed to catch up with her as Japan virtuallyr an roughshod over them. Japan built up a 31-16 lead as Nanako Todo, Ririka Okuyama, Chinatsu Omeki and Norika Kono were all among the scorers. But Australia managed to not only equalsie but also take a 39-38 lead midway up the second quarter.
But with Ririka Okuyama producing three pointers almost at will, Japan once again regained their lead at 60-45. From then on it was all Japan. The taller Australians struggled to match Japan pace and swift counters and though Meila Goodchild did her best with some accurate shooting, it was beyond the Australians to stage another comeback as Japan steadily increased the lead and won by a good margin of 13 points.
China were the more organized and comparatively error-free outfit compared to Korea. They moved in tandem and their shooting skills were far more accurate and divided-fetching than their opponents'. They were also able to vary the pace of their attacks.
China stormed into a 11-point lead as the game got going and Korea managed to find their first basket after a good four minutes had elapsed as Jihyun Park managed to roll it in after a good dash into the paint.
With the lanky Mingling Chen and Ziting Tang dipping the ball into the net attack adter attack, the Koreans found it tough to stop them. The gangling Yutong Liu being brought in very cleverly by the think tank, China kept up their 11-point lead for the most part as Yutong did well to station herself below the basket and then turn in the passes that were lobbed to her.
Korea were far too error-prone in their shooting and erratic in their shooting. They gave away possession with untimely release or else failed to find the target from near and from outside the paint as well. Often luck deserted them as the ball rolled out after dancing around the rim for precious and hopeful seconds.
Jihyun Park and Sohee Lee provided a lot of assists and egged their teammates on but China's close marking prevented Korea from scoring. Yet, the Koreans tried might and main to come back and managed to reduce the lead to just seven points midway through the final quarter at 50-57 but China pulled away again with a couple of two pointers and two free throw conversions. As time ticked away China got better and better to eventually win comfortably.
NEW ZEALAND WIN
New Zealand outclassed Chinese Taipei 75-47 to take the fifth spot. Chinese Taipei thus ended sixth. Indonesia placed seventh after defeating Malaysia, who ended last of eight nations and will be demoted to Division B for the next edition in 2020.
RESULTS: DIVISION A
1st Semi-final:
Korea Republic 51 (Jihyun Park 20, Sohee Lee 14, Inah Park 10) lost to China 69 (Mingling Chen 19, Ziting Tang 13); (13-24, 12-15, 16-13, 10-17). Japan 90 (Nanako Todo 21, Ririka Okuyama 17, Chinatsu Omeki 12, Norika Kono 11) beat Australia 77 (Miela Goodchild 26, Isabel Leigh Palmer 9); (21-12, 17-27, 30-12, 22-28).
Classification 5th and 6th place
New Zealand 75 (Charlisse Leger-Walker 18) beat Chinese Taipei 47 (Yu-Chieh Chen 16); (14-9, 23-12, 19-18, 19-8).
AUSTRALIA, CHINA ENTER SEMIS, BOOK WORLD CUP BERTHS
Australia and China stormed into the semi-finals of the 2018 FIBA Asia Women's (Under-18) basketball championships at the Sri Kanteerava Indoor Stadium here on Thursday.
The FIBA world No 7 ranked Australia did well to subdue a spirited late surge by Oceania rivals New Zealand to win comfortably in the end at 82-66. China, ranked No 9, got the better of traditional rivals comfortably Chinese Taipei at 80-53.
While Australia clash with Japan, China take on Korea Republic in the semi-finals. All these four teams earned the right to represent FIBA Asia in the 2019 FIBA World Cup (Under-19) basketball championships in Thailand from July 20 to 28, 2019.
Australia surged into a good lead initially but the Kiwis cut it down and stayed within striking distance. Yet, the taller Australians kept their noses in front with some timely interceptions and effective 'man-to-man' marking.
They were quicker in getting points from the turnovers as New Zealand found it tough to recover and regroup. Isobel Anne Anstey and Miela Goodchild produced accurate baskets and Australia pulled ahead every time New Zealand reduced the deficit. At one point, New Zealand were just five points adrift at 25-30 and then again at 52-57.
But Australia never really went flat out. They hardly adopted the full court press and were content to attack at intervals but when they did choose to, they were the more swifter on the counter though New Zealand did their best to match them.
Jazmin Pamela Shelley and Samantha Kate Simmons provided some wonderful assists with their intricate passing which the Kiwis had no clue about for Anstey and Goodchild to dip the ball into the nets. Their interceptions prevented the hitherto high-scoring New Zealand duo of Charlisse Leger-Walker and Charlotte Whittaker from finding the target.
Australia then pulled away to a 15 point lead and wrapped it up at 82-66 to win comfortably in the end.
CHINA PUMMEL CHINESE TAIPEI
The opportunism of the lanky Yutong Liu inside the paint and accuracy of Yuyan Li outside it, served China admirably. Add the dashing ability of Yuan Li and China dominated the proceedings without having to press the accelerator all along.
They moved with precision opening up passing options galore. And when there was none to receive them their shooting ability saw them through. Yutong camped inside the paint and picked up rebounds to drop the ball in frequently. Or else she burst in and provided passing options and made no mistake when she was provided the passes.
All this enabled China to build up sizeable leads and were never really hard pressed in maintaining it. China also covered up very well and forced their opponents to keep the ball longer. And at the approaching possibility of the hooter at 24 seconds, the Taipei players tried to drop in long shot but invariably were off target. In any case, the China were far too superior and won untroubled.
DIVISION B
KAZAKHSTAN, HONG KONG ENTER SEMIS
Riding on Inna Kulikova's game-high score of 26 baskets, the 44th ranked Kazakhstan defeated Iran 71-56 at the Koramangala Indoor Stadium to enter the semi-finals and will meet Syria.
Hong Kong defeated Singapore comfortably 67-37 at the same venue to also make the last four and set up a clash with hosts India.
RESULTS: DIVISION A
Qualification to Semi-finals:
Australia 82 (Isobel Anne Anstey 13, Miela Goodchild 13, Jazmin Pamela Shelley 11, Samantha Kate Simmons 10) beat New Zealand 66 (Ella Bradley 14, Tayla Dalton 10)).
(23-15, 18-10, 24-19, 17-22).
China 80 (Yuan Li 20, Yuyan Li 16, Yutong Liu 10) beat Chinese Taipei 53 (Yu-Chieh Chen 16).
(27-14, 19-10, 12-13, 22-16)
Classification matches (7th and 8th):
Indonesia 86 (Tricia Mary Aojis 22) beat Malaysia 35 (Sin Jie Tan 13).
(16-6, 25-9, 27-11, 19-9).
RESULTS: DIVISION B;
Qualification to Semi-finals:
Iran 56 (Fatemeh Aghazedagan Ghazvini 12) lost to Kazakhstan 71 (Inna Kulikova 26).
(17-20, 5-16, 10-14,m 24-21).
Hong Kong 67 (Wing Nga Poon 18) beat Singapore 37 (Briana Bao Yu Lee 10).
(14-6, 15-9, 21-7, 17-15)
Classification matches (7th and 8th):
Guam 48 (Mia San Nicolas 24) lost to Samoa 62 (Kalista Niu 19); (14-6, 16-21, 7-23, 12-12).
AUSTRALIA, CHINA FANCIED TO MAKE SEMI-FINALS
Team placing second in group A takes on the team placed third in group B. Consequently, the two Oceania giants, World No 7 Australia and World No 33 New Zealand set up the qualification to the semi-final clash. Korea Republic topped group A and made the semis directly.
The winner of this all-Oceania tie will lock horns with Japan in the semi-final on November 2, 2018.
Meeting each other in the FIBA Oceania Under-18 championships, Australia have a 5-0 win-loss over New Zealand. All their wins have been very convincing too.
Whether it is points from fast breaks or points in the paint, the Australians have performed better than their Oceania neighbours. With Meila Goodchild, Isabel Annstey and Jasmin Mamela Shelley in fine form, the Australians should start as overwhelming favourites to advance.
Charlotte Whittaker and Charlise Leger-Walker have kept New Zealand in the hunt and can trouble the Australians with their all-round abilities.
But lack of support will worry the Kiwis.
Similarly, group B runners-up and defending champions China met Chinese Taipei, the third placed team in group A. Japan were on top of the heap in Group B to make the last four stage
.
The winner of this match between the two traditional rivals, will clash with Korea Republic in the semi-finals, also on Friday, November 2, 2018.
Since 1998, China has beaten Chinese Taipei on all the five occasions they have met in the championship. Winners of the championship a record 15 times, China has been the superior outfit in all departments. They came up against a very fast paced Japanese team and despite leading by seven points in the last quarter, lost to the crafty Japanese.
Mingling Chen has been China's top performer and has scored the highest number of points in each of the three games. Yuan Li too has been doing well. China towers over their rivals and should score.
Though Yu-Chieh Chen has served Chinese Taipei well, she will find it tough to repeat her showing the Chinese. DIVISION B
With India and Syria already making it to the last four by topping group A and B respectively, it will be Iran vs Kazakhstan and Hong Kong vs Singapore fighting it out for the other two semi-final slots.
India storm into semis with third straight victory
India defeated Singapore comfortably at 79-49 to make the Division B, Group A semi=finals by topping the group.
The FIBA No 37 ranked Indians had beaten Iran with some difficulty and then crushed Guam. The third game was also not a tough assignment as the Indians stormed into a 20-3 lead 38-25 allowing Singapore a lot of leeway at the breather. Once again, the Indians got into top gear and Singapore found it tough to come up with any answers to India's aggression and well coordinated movements.
Gulabsha Ali was the cynosure with 21 points. she also picked up rebounds, provided assists and also stole the ball frequently to frustrate Singapore.
Shushantika Chakravortty came up with some timely blocks while and Srishti Suren produced some accurate shooting and kept the score ticking with her two and three pointers as India played a relaxed game in the later stages.
Results: Division B:
Group A
India 79 (Gulabsha Ali 21) beat Singapore 49 (Shuting Valentia Wong 12)
(20-3, 18-22, 25-11, 16-13).
Guam 55 (Mia San Nicolas 21) lost to Iran 98 (Fatemeh Aghazadegan Ghazvini 28); (19-18, 08-29, 14-18, 14-33).
Group B
Hong Kong 80 (Put Ying Ho 22) beat Kazakhstan 73 (Inna Kulikova 21);
(15-18, 18-22, 29-14, 19-19).
Samoa 37 (T. Stowers 11) lost to Syria 44 (Anna Aghnanian Aslanian 19).
(12-7, 8-19, 4-13, 13-5).
PRESS RELEASE
Korea, Japan storm into semis and book World Cup berths
Korea Republic and Japan romped into the semi-finals of the 2018 FIBA Asia Women's (Under-18) basketball championships at the Sree Kanteerava Indoor Stadium here on Tuesday.
Korea Republic stunned Australia 63-62 and made it from Group A with three wins on the trot while Japan shocked holders China 94-79 to make the last four from Group B. In the bargain, both teams qualified for the 2019 World Cup Women's Under-19 basketball championships to be held in Thailand.
Korea Republic stunned fancied Australia in a nail-biting Group A encounter. Sohee Lee scored 21 points and had seven assists and six steals and was Korea's star performer. Isobel Anne Anstey had 19 points to her credit and picked up 15 rebounds as well but her efforts went in vain. Ironically, Isobel missed a lay up with the score 62-63 and it was all over for Australia in this game.
The Koreans enjoyed a slender three points lead at the end of the first quarter and then totally outplayed Australia in the second to zoom into a 27-18 lead at half time. However, both teams fought a ding dong battle for supremacy and the high scoring third quarter ended 21-21 with the Koreans marginally ahead at 48-39. Although the Australians managed to score as much as 23 points in the final quarter, the Koreans' slender lead stood them in good stead as they eventually won by just one point at 63-62.
Point guard Meila Goodchild made some fine assists and combined very effectively with Isobel. With Jazmin Pamela Shelley, who scored a jump shot three-pointer as well, producing some intelligent drop shots and sinking accurate two-pointers, the Australians exerted immense pressure in their bid to forge ahead but the gritty Koreans defended resolutely to deny them that till the very end.
Korea's Yerim Jung came up with some timely steals to catch the Aussies napping often. Sohee too was all over the court and intercepted many a Australian move in the vicinity of the arc.
In another group A match, Chinese Taipei easily defeated Indonesia 99-54.
JAPAN SHOCK CHINA
Layla Takehara, playing a total of 22.06 minutes of the match and shooting guard Norika Konno on the court for 21.7 minutes, Japan had two tireless performers. It was their staying ability in the main that Japan were able to launch super-fast counters leaving the Chinese stranded or desperately back-pedalling. That ploy worked wonderfully especially in the final quarter when Japan trailed by seven points at 48-55. They stormed the Chinese board in flash and unleashed a torrent of electrifying moves to exert tremendous pressure in a full-court press.
Passing options were many as they moved around the arc swiftly and took up shooting positions or else barged into the paint to dip in two-pointers in a regular flow. Japan outscored China 48-30 in the paint. So pronounced was their dominance.
That took the stuffing out of the Chinese and once Japan had levelled at 57-57, there was no stopping them.
Japan scored 22 fast break points and totally dominated the Chinese. They took a ten point lead at 78-68 and then it was all Japan.
New Zealand outplayed hapless Malaysia 99-32 in another Group B match.
RESULTS: DIVISION A;
Group A
Australia 62 (Isobel Anne Anstey 19) lost to Korea Republic 63 (Sohee Lee 21); (10-13, 08-14, 21-21, 23-15)
Chinese Taipei 99 (Yu-Chieh Chen 13) beat Indonesia 54 (Tricia Mary Aoijs 15); (30-07, 22-13, 26-12, 21-21).
Group B
China 79 (Mingling Chen 16) lost to Japan 94 (Norika Konno 19); (24-23, 21-18, 16-29, 18-24).
New Zealand 99 (Charlotte Whittaker 18) beat Malaysia 32 (Weng Yen Chan 10) (29-12, 26-07, 22-08, 22-07).
India steamroll Guam for second victory
By Our Correspondent
Bengaluru, oct 29: The Indian team had an easy day in office crushing Guam 107-42 in their Group A outing of Division B.
India had beaten Iran 73-65 and were stretched a lot. But they faced no such problems as they kept up a steady stream of baskets to lead 28-9 by the first ten minutes and then they went on increasing it all along.
Srishti Suren (19) and Dharshini Thirunavukkarasu (15) were the star performers for India as they picked up rebounds, made effective assists and also sunk the ball into the ring at frequent intervals. Their accuracy and distribution was something Guam were unable to check. They crossed the half century mark at half time and added to the tally almost at will.
Elysia Perez (12 points) played a fine game but with the others not matching her efforts, Guam could do precious little in the game.
In other group A action, Iran defeated Singapore 70-53 with Fatemeh Aghazadegan Ghazvini their top scorer with 28 baskets.
Kazakhstan did not have to exert themselves much as they carved out a 67-51 win over Samoa in Group B while Syria defeated Hong Kong 66-47.
Results: Division B;
Group A
Guam 42 (Elysia Perez 12) lost to India (Srishti Suren 19, Dharshini Thirunavukkarasu 15) 107. (9-28, 13-22, 9-35, 11-22)
Iran 70 (Fatemeh Aghazadegan Ghazvini 28) beat Singapore (Shuting Valentia Wong 19) 53. (22-09, 12-12, 27-16, 09-16)
Group B
Samoa 51 (Cherish Manumalegua 18) lost to Kazakhstan 67 (Valeriya Motovilova 17). (13-19, 11-19, 16-15, 11-14).
Syria 66 (Noura Bshara 25) beat vs Hong Kong 47 (Wing Yan Chan 14)
(11-9, 14-15, 25-11, 16-12).
DIVISION A
CHINA SINK NEW ZEALAND IN THRILLING ENCOUNTER
Defending champions China defeated New Zealand 67-58 in a nail-biting Division A, Group B encounter of the 2018 FIBA Asia Women's (Under-18) basketball championships at the Sree Kanteerava Indoor Stadium here on Monday.
Mingling Chen, the top scorer with 19 points against Malaysia in the opening game, once again did the star turn for China as she sunk 22 baskets to go right on top of the scoring charts in this second straight win for her team.
The tall Charlotte Whittaker, Charlisse Lebger-Walker and Tayla Dalton led New Zealand's superb fight against China. In an exciting encounter, the Kiwis made the holders and 15-times winners of the competition sweat it out perhaps like never before. They never allowed the Chinese to enjoy a sizeable lead at any point and themselves produced some brilliant jump shots for two and three pointers to keep within striking distance of the Chinese.
The Kiwis led 16-13 at the end of the first quarter. But China pulled up their socks and took the second at 17-11 for an overall lead of 30-27. This after New Zealand had levelled the scores at 27-27 after having trailed 23-27 at one point. Mingling Chen was once again the cynosure and was very well supported by Ziting Tang as she was very swift and accurate in her distribution.
But Charlotte and Charlisse Lebger-Walker yet again shone for the Kiwis who managed to keep the Chinese at bay and trailed 40-47 at the end of the third quarter. The final quarter was an edge of the seat thriller as both teams neither asked for nor gave any quarter.
It was a virtual race against the clock as the ball dipped into the ring ceaselessly from inside and outside the semi-circle. Launching brisk attacks after snatching defensive rebounds, New Zealand and China virtually set the stands ablaze in their search for points. With barely 18 seconds to go for the hooter, it was 18-18 in the fourth quarter with China ahead at 66-58. China prevented any further baskets while themselves sinking one as Yuan Li converted one of the two free throws but missing the second as China eventually triumphed at 67-58.
JAPAN WIN EASILY
In another group B match, Japan toyed with Malaysia and posted a resounding 130-31 victory with Shori Yamashita scoring 25 points.
AUSTRALIA DOWN TAIPEI
Earlier, riding on Miela Goodchild's all-round brilliance, Australia recorded another big tally as they defeated Chinese Taipei 106-66 in group A.
This was the second straight win for Australia, the Oceania champions, after their easy 96-28 win over Indonesia in their opening match.
Meila Goodchild scored 27 points and also collected 10 rebounds and provided two assists to star in the victory of the impressive Aussies.
Yu-Chieh Chen matched her rival basket for basket and scored 21 points for the Taipei team but to no avail. This was their second straight defeat having lost to Korea Republic on Sunday.
KOREA CRUSH INDONESIA
Korea Republic rushed Indonesia 84-40 with Jihyun Park top-scoring with 20 points. Korea led 20-6 after the first 10 minutes and then never looked back. They had possession and indulged in fancy passing bouts to score as they liked and recorded their second straight victory in the gro
Results: Division A;
Group A
Chinese Taipei 66 (Yu-Chieh Chen 21) lost to Australia 106 (Miela Goodchild 27). (23-35, 13-26, 21-23, 9-22).
Indonesia 40 (Tricia Mary Aoijs 9) lost to Korea Republic 84 (Jihyun Park 20)
(6-20, 8-25, 18-24, 10-15).
Group B
New Zealand 58 (Charlisse Leger-Walker 22) lost to China 67 (Mingling Chen 15). (16-13, 11-17, 13-18, 18-19).
Malaysia 31(Sin JIe Tan 11) lost to Japan 130 (Shori Yamashita 25).
(7-36,8-34, 8-26, 8-34).
INDIA STAVE OFF STRONG IRANIAN CHALLENGE
Aspiring to gain promotion to division A in the next edition, hosts India began their Division B, Group A campaign with a fighting 76-65 victory over Iran at the Sree Kanteerava Indoor Stadium here on Sunday.
India started with a bank taking a 12-2 lead initially and won the first quarter at 23-13. However, iran regrouped and bagged the next at 22-17.
India again fought hard to keep their lead and won the next at 16-12 and despite losing the final quarter, 17-18, the lead they took by the end of the third kept them afloat as they emerged victorious in front of a boisterous crowd.
In other Division B action at the Koramangala indoor Stadium, Singapore defeated Guam 83-35 in Group A.
In Group B, Hong Kong got the better of Samoa 78-50 and Syria managed to eke out a 56-40 win over Kazakhstan.
Results: Division B
Group A:
India 76 (Sreekala Rani 19) bt iran 65 (F A Ghazvini 22).
(23-13, 17-22, 16-12, 17-18)
Singapore 83 (Xingyue 9) bt Guam 35 (Mia San Nicolas 14).
(35-10, 9-9, 17-12, 22-04)
Group B:
Hong Kong 78 (Tan Fung TF Ma 9) bt Samoa 50 (Harmony Harder 3).
(21-11, 21-13, 18-15, 18-11)
Syria 56 (A A Aslanian 25) bt Kazakhstan 40 (Maria Zaitseva 8)
(14-6, 12-6, 16-13, 14-15) .
DIVISION A
Japan survive New Zealand fightback
Runners-up Japan had to stave off a very determined challenge from New Zealand before winning 77-62 in their
Division A, group B match in the 2018 FIBA Women's (Under-18) basketball championships at the Sree Kanteerava Indoor Stadium here on Sunday. The scores in the four quarters gives a proper idea of how the game went. Japan were early leaders and looked set for a cakewalk winning the first at 23-13, But the Kiwis staged a fine rally in the second which Japan won narrowly at 18-16. New Zealand produced an array of fine three and two pointers to snatch the third at 21-11. But Japan reserved their best and kept a seven or eight point lead all through. At one stage the Kiwis reduced it to just five at 57-52. But the tatically superior Japanese pressed the accelerator and won the last quarter at 25-12. Charllotte Whittaker was the towering performer for New Zealand with 23 baskets while Norika Kono sunk in 16 to be their top scorer.
Holders China easily defeated Malaysia 102-28 in the same group league match earlier.
Korea Republic and Chinese Taipei too produced similar stuff as the action swung back and forth in a fast-paced encounter in group A as Korea finally pulled it off at 64-56.
Australia had it easy in group A with a 96-28 dismantling of Indonesia.
Results (Day 1):
Division A
Group A:
Australia 96 (Isobel Anne Anstey 20) beat Indonesia 28 (Faizzatus Shoimah 08).
(23-02, 21-10, 23-09, 29-07)
Korea Republic 64 (Inah Parkj 16) beat Chinese Taipei 56 (Pei Yeh Lo 11).
(20-13, 13-07, 20-26, 11-10)
Group B
China 102 (Mingling Chen 31) beat Malaysia 28 (Sin Jei Tan 12).
(18-10, 25-04, 37-03, 22-11)
Japan 77 (Norika Kono 16) beat New Zealand 62 (Charlotte Whittaker 23)
(23-13, 18-16, 11-21, 25-12).
© Karnataka Olympic Association - 2023 | Designed and Maintained by
Elicyns