PRESIDENT'S MESSAGE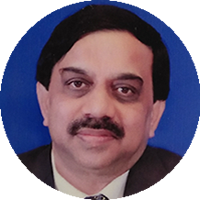 Sri K. GOVINDARAJ, MLC
PRESIDENT
Karnataka Olympic Association
Parliamentary Secretary to
Hon'ble Chief Minister of Karnataka
INDIANS COAST TO GOLDEN SHOW AT CWG
Curtains have come down on the 2018 Commonwealth Games in Gold Coast, Australia.
Our contingent has done admirably well to win 66 medals in all, which is the third highest tally after New Delhi, where we won 101 in 2010 and in Manchester in 2002 where we bagged 69 medals. In 2014 at Glasgow, we had claimed 64 medals.
India finished third in 2018 behind Australia and England. India's 66 medals included 26 gold, 20 silver and 20 bronze.
More significantly, the most successful medal haul in table tennis was eight, more than at any CWG while badminton got India six medals.
Some fine performances were worth remembering:
World champion and CWG record holder Saikhom Mirabai Chanu breaking six records in six lifts to storm her way to gold the women's 48kg weightlifting event.
Manika Batra clinching gold in the women's singles table tennis final to become the first Indian woman to do so. Overall, Batra won four medals at the CWG. The country's first women's table tennis team gold, secured when Batra led them to an unprecedented victory over four-time CWG gold medalists Singapore.
Saina Nehwal becoming the first female Indian shuttler to win two individual badminton gold medals, after defeating World No 3 PV Sindhu 21-18, 23-22 in a thrilling women's singles final.
Sushil Kumar winning his third consecutive CWG gold. Sushil won his freestyle 74kg final to make it three in a row after 66kg gold in 2010 and 74kg gold in Glasgow.
The 15-year-old pistol sensation Anish Bhanwala becoming the youngest Indian gold medalist at the CWG with a Games record score of 30 in the men's 25pm rapid fire pistol finals.
Five-time world champion and Olympic bronze medalist MC Mary Kom, at the age of 35, winning her first CWG medal by claiming gold in the women's 45-48kg boxing event.
Teenage shooting prodigy Manu Bhaker winning gold in the women's 10m air pistol event after she shot a qualifying CWG record score of 388/400 in her first appearance at the Games.
Neeraj Chopra marking his CWG debut with a season bestsellers throw of 86.47 to win a javelin gold.
Shooters Tejaswini Sawant and Heena Sidhu taking two medals. Sawant won gold in the women's 50m rifle 3 prone and silver in the 50m rifle prone, and Sidhu gold in the women's 25m pistol (with a CWG record 38) and silver in the 10m air pistol.
Wrestler Bajrang Punia winning gold in the men's freestyle 64kg finals with a two-minute win over Kane Charig of Wales.
We at the Karnataka Olympic Association and the Indian Olympic Association congratulate the entire Indian contingent for this wonderful performance. Keep the tricolor flying higher.
GOLDEN GIRL ASHWINI SHINES AT CWG
India won the badminton Mixed Team Event gold at the Commonwealth Games in Gold Coast, Australia, for the first time in then history of the sport. And part of that stupendous success was Karnataka's very own doubles specialist Ashwini Ponnappa.
Ashwini has been doing wonderfully well in the doubles event but she played a stellar role by winning her match in the team event and India wrapped up a fine 3-1 victory over Malaysia in the final.
Ashwini Ponnappa, Satwik Rankireddy, Kidambi Srikanth and Saina Nehwal formed the gold medal winning team coached by P. Gopichand. KOA congralutes the team for its success, especially Ashwini who has done Karnataka and India proud. Keep it up and come home with more medals.
MY BEST WISHES TO HIM FOR THE FUTURE.
KOA IS PROUD OF GURURAJA'S ACHIEVEMENT
It is a very momentous occasion for us in Karnataka and the entire country. Gururaja Poojary has done the impossible with his dedication and commitment.
By winning the silver medal in the 56-kgs event of the Commonwealth Games now in progress in Gold Coast, Australia, this student of the SDM College, Ugire, in Udipi, Mangalore, Gururaj has made us all proud. More so as his father is a truck driver who has supported his son through sheer hard work.
The Karnataka Olympic Association is very proud of this achievement of this Karnataka weightlifter. He has surely inspired a generation of sportspersons from the state.
The KOA will felicitate him on his return and reward his suitably for this wonderful achievement. As you are aware, Sri Siddaramaiah, Hon'ble Chief Minister of Karnataka has already announced rewards for state sportspersons winning medals at the Olympic, Asian and Commonwealth Games. The government and KOA will surely do justice to this dedicated sportsman from our state. I am sure his feat will inspire a lot of youngsters in the State.
MY BEST WISHES TO HIM FOR THE FUTURE.
Read More From President Desk
From President's Desk
This is a truly exceptional and wonderful period in the history of the Karnataka Olympic Association. We are celebrating 60 years of its formation way back in 1958. And today we are the proud owners of our own premises. We have our own website. We have been giving our annual awards to merited sports personalities for the past 16 years in a row. We have instituted various schemes for the benefit of our sportspersons be it diet allowances, quality kits and equipment, medical and insurance benefit, funding trips abroad for training and competition, I think we have been able to cover all areas of requirement of our hard-working and determined sports persons.
The time has perhaps come for us to now double up our efforts and press the accelerator a little harder so that Karnataka climbs higher and faster on the peaks of glory.
I have had a very cooperative and efficient team of members. Our sports associations have played a very constructive role. So too the State government and its various departments in times of need. There is only one way for us to go - and that is up the path of progress. I appeal to one and all to join hands and strengthen the organization so that we become a model association in the country.
JAI HIND, JAI KARNATAKA
K. GOVINDARAJ, MLC
PRESIDENT.
© Karnataka Olympic Association - 2023 | Designed and Maintained by
Elicyns